Oi gente! Num deu pra postar o Unhas da Semana ontem, mas um diazinho de atraso não tem problema, né?
Esse semestre meus horários na faculdade estão totalmente doidos, sendo que to tendo aula em período integral e talz, então fica complicado achar tempo pra postar e até pra cuidar de mim mesma :/ É triste mas eu não tava tendo tempo nem pra pintar as unhas, coisa que eu sempre gostei muito de fazer!
Maas como assumi esse compromisso com vocês, escolhi uma cor ja antiguinha mas que gosto muito. Na verdade faz tempo que não compro novos esmaltes e to meio por fora dos lançamentos…
A cor da vez é o Pedra Granada, da Risqué. É um vermelho liindo (adoro!), fechado e fosco. Creio que tenha um pouquiiiinho de preto na composição da cor, pois vendo o esmalte da pra ver que a cor é levemente queimada.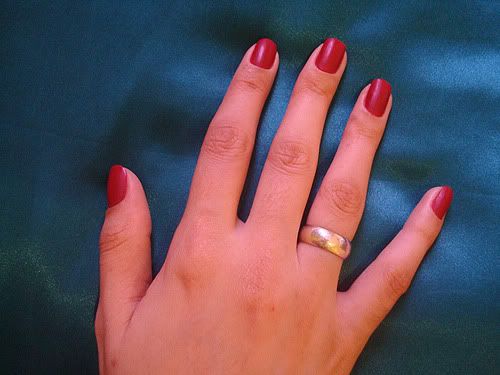 O esmalte é super fácil de se aplicar, usei duas camadas e já ficou ok. Apesar de vermelho ser uma das cores que eu tenho mais dificuldade pra limpar os cantinhos, com o Pedra Granada também foi super fácil.
O esmalte só peca na durabilidade, não durou muita coisa nas minhas unhas não, infelizmente. :/ Mas como isso varia de pessoa pra pessoa, acho que vale a pena testar a cor, é um tom sério muito chique e quem não gosta de esmalte fosco, basta passar uma cobertura =)
Beijos e até mais