Já deu pra perceber que eu e a Lissa nos revezamos aqui no Unhas da Semana né?! O bom é que a gente anda pintando as unhas de cores bem diferentes umas das outras e vocês veem uma diversidade maior de esmaltes. To numa fase invernal, pra contrastar com o calor que continua a fazer nessa cidade do sol (pra quem não sabe, Natal/RN) e essa semana pintei de Nikki da Ana Hickman: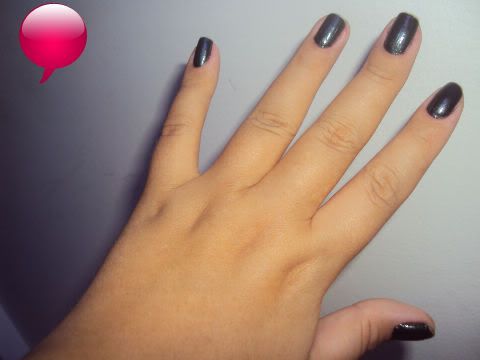 A cor é linda, um cinza meio metálico (esmaltes metálicos
ven ni mim
) e de perto tem uns brilhinhos lindos, pena que não consegui captar a cor.
Passei duas camadas do
Carbono
(coleçao Urban da colorama) e depois passei uma camada do
Nikki
. Mas acho que com duas camadas do Nikki já cobrem bem a unha, só pintei por cima do carbono porque minha ideia original era o carbono, que desde que vi swatches por aí tinha ficado doida procurando pra comprar e quando encontrei nem era essa coisa toda, decepcionei =/
Nunca tinha usado esmalte da Ana Hickman e gostei! :D Creio que com uma das coberturas transformadoras da cor da colorama fica mais lindo ainda!!!
E pras natalenses que perguntam onde acho os esmaltes. Tem alguns exemplares da coleção URBAN da Colorama nas Lojas Americanas (Midway e Natal Shopping) e a Cynthia disse no twitter que parece que tem também no Nordestão. Se alguma de vocês encontrar o absinto, gritem! Eu to querendo comprar.
Momento revolta: Toda semana uma unha minha resolve quebrar! Massa né?! Indiquem produtinhos pra unhas fracas porque to precisando. =/
Beijinhos