Gals,
navegando pela internê, vi em vários blogs e achei interessante compartilhar com vocês também. No site da OPI tem um simulador de mãos, lá você testa os esmaltes da marca numa mão digital (que você pode mudar o tom da pele e o tamanho das unhas).
Tipo, você pinta as unhas online e vê como ficou!
Achei bem divertido porque você vai testando as cores que ficam mais legais com o tom de pele aproximado do seu.
Olha que legal: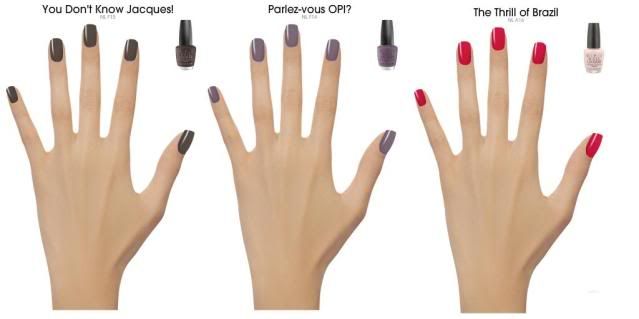 Na foto, teoricamente a minha mão com três cores diferentes:
You don´t know Jacques
, um marrom lindo, que eu adorei e olha que eu odeio esmalte marrom,
Parlez-vous OPI?
um lilás lindo que anda sendo bem comparado com o Audrey da coleção divas da Impala e
The Thrill of Brazil
, vermelho, claro, porque eu amo!!
Pra ir correndo pintar suas unhas,
clica aqui
Alguém sabe onde vende esmalte OPI por aí?! Quero os três!!!!