Olá, pessoas!
Hoje, teremos mais uma dica musical. É que ando meio impossibilitada de ver outras coisa, mas música… Sempre me aparecem coisas novas. E semana passada, uma amiga me apresentou uma dupla fantástica, chamada The Dresden Dolls.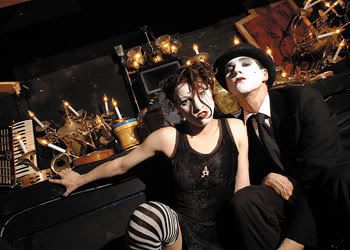 Era uma vez, Brian Viglione, que conheceu Amanda Palmer numa festa de halloween, em Boston (EUA), onde ela estava se apresentando. Brian encantou-se com o estilo da moça e a aproximação dos dois resultou em uma experiência musical com toques de indie rock, dark cabaret e post-punk, a qual denominaram de: The Dresden Dolls.
Suas apresentações são performáticas (num estilo chamado, por eles mesmos, de 'cabaret punk bretchiano", lembra um pouco a estética do filme Moulin Rouge), onde os membros da banda maquiam-se e se vestem com roupas de cabaré. Os principais instrumentos são a bateria de Brian e o piano/teclado de Amanda, com vocal dos dois. Suas letras são cruas, puxando para o lado tragicômico… São composições fantásticas!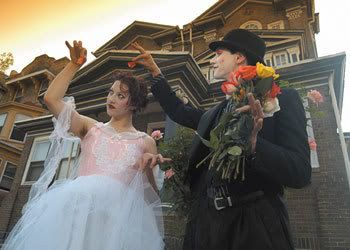 A voz grave de Amanda, acompanhada de seu piano dão aquele toque nostálgico que é quebrado com a bateria forte de Brian. Pode-se dizer que os dois são bem ecléticos na escolha dos ritmos que utilizam e que a mistura fica muito boa!
Ah, o nome da banda faz referência á cidade de Dresden, na Alemanha, devastada por um bombardeio na Segunda Guerra Mundial.
Encontrei na discografia deles, os seguintes álbuns:
– A is for Accident (2003)
-The Dresden Dolls (2004)
-Yes, Virginia (2006)
– No, Virginia (2008)
Deixo com vocês, o link para o site da banda e em seguida um videoclipe:
E então, o que acharam?
Beijos!