Fazia tempo que eu não baixava um jogo tão viciante quanto Angry Gran Run. Vi ele no celular da minha prima e assim que joguei baixei pra mim também.
O jogo é simples: uma vovó muito doida foge do asilo e precisa correr a maior distância possível pra não ser capturada. Ela sai correndo pela rua e você tem que desviar os obstáculos mais non senses: latas gigantes de refrigerante, aliens, dinossauros, buracos na rua, táxis passando e por aí vai.
Junte as moedas e derrube as pessoas que passam na rua pra no fim da partida trocar por atualizações da personagem (tem uma roupa da mulher maravilha, to juntando minhas moedas pra trocar por uma. ahhahahahahaha)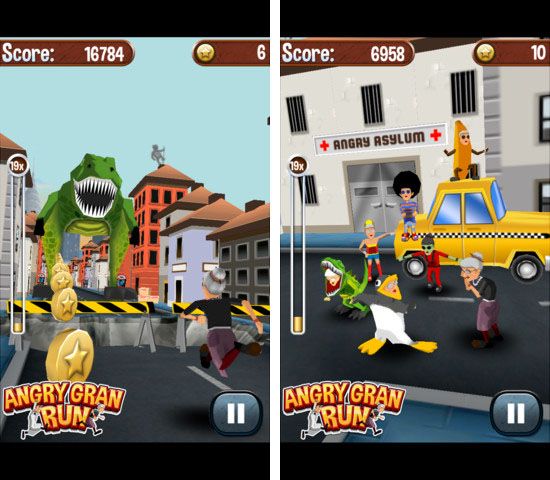 O jogo é viciante, sempre que eu tenho um tempo livre to fazendo a vovó doida correr!
Tem pra
iphone
,
android
e dá pra jogar no pc acessando
esse link
.
Se vocês tiverem dicas de joguinhos nesse estilo, podem mandar que eu adoro! haha
Beijinhos